Fort Churchill, NSDAR
Fort Churchill, NSDAR, was organized in Fernley, Nevada, on October 06, 2012, by organizing regent Linda Garrett and twelve patriotic women. After a brief telephone call to National, we received affirmation that the Fort Churchill, NSDAR, had been confirmed. After the meeting we took time out to celebrate the 122nd birthday of DAR. Our regular meetings are held in Fernley, Nevada the first Saturday of each month from September through May.
About Fort Churchill
The chapter name, Fort Churchill, was adapted from the once active U.S. Army fort built in 1861 to provide protection for early settlers. The post was named Fort Churchill for Sylvester Churchill, Inspector General of the U.S. Army. Fort Churchill is located eight miles south of Silver Springs on Alternate U.S. 95, and one mile on Fort Churchill Road.
Organizational Meeting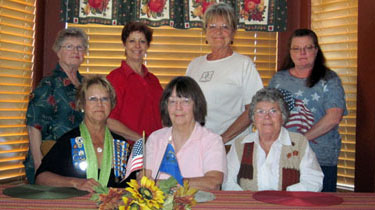 Back left to right; Historian Bonnie Rardin, Treasurer Kimberly Perryman, Registrar Lynn Kinsell, Secretary Lynda Freeman. Front left to right; Regent Linda Garrett, Chaplain Ruth Cramer, Vice-Regent Sue Gill.